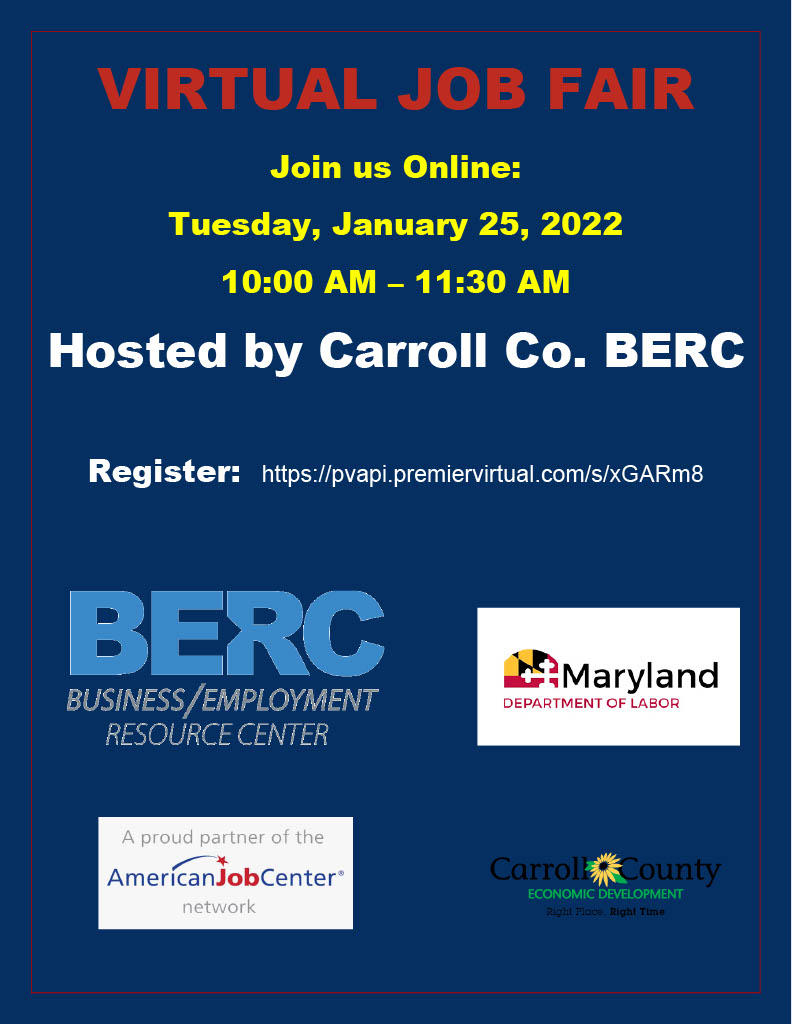 Carroll County BERC announces the first Virtual Job Fair of 2022.
Join us Online:
Tuesday, January 25, 2022
10:00 AM – 11:30 AM
Employers and job seekers are invited to Register now for these online employment events.
https://pvapi.premiervirtual.com/s/xGARm8
Current list of employers:
McDaniel College
Atlantic Blue Water Services
ProList, Inc.
Nature's Retreat LLC
Penn Mar Human Services
Fuchs North America
Performance Foodservice Maryland
Carroll Lutheran Village
Human Services Programs of Carroll County, Inc.
Carroll Hospital
The Arc Carroll County
MDOT State Highway Administration
Salerno's Restaurant & Catering
CJ Miller LLC
F&S Transportation MD, Inc
MidAtlantic Farm Credit
Long View Center
Buckinghams Choice
Startup Portal
Royal Farms #323
High's/ Carroll Motor Fuels
Carroll County BERC
BW Papersystems
Job Club: Weekly recruiting event on Wednesdays, 1-2 pm, for employers and job seekers.
Register at: https://app.premiervirtual.com/events/e41861b8-91bd-45de-a168-97d69af7f070/carroll-county-berc-job-club-meeting
Premier Virtual is an online virtual job and career fair platform. Online hiring events are designed to bridge the gap between technology and human experience.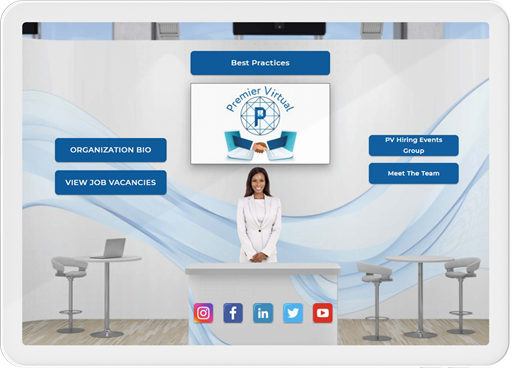 Simple to navigate user-friendly interface
Employer "Interactive Hiring Room" allows you to text chat and use the internal video chat to invite the candidate to a live "real time" interview
Customize each employer's booth with a logo, biography, job vacancies, job details, website, videos and social media links
Job seeker chat function allows them to send/receive messages from any booth in the event. So if you miss them initially, they can still respond even if they have already left your booth
Employers can respond to job seekers questions, or initiate the chat themselves from the Employer Hiring Room
Back-end functionality allows the ability to follow up with job seekers after the event
Benefits of using Premier Virtual:
Simulates in-person experience
No travel or related expenses
No social distancing concerns
Increases productivity
Unlimited job candidate pool
Significantly reduces event costs
No geographical boundaries