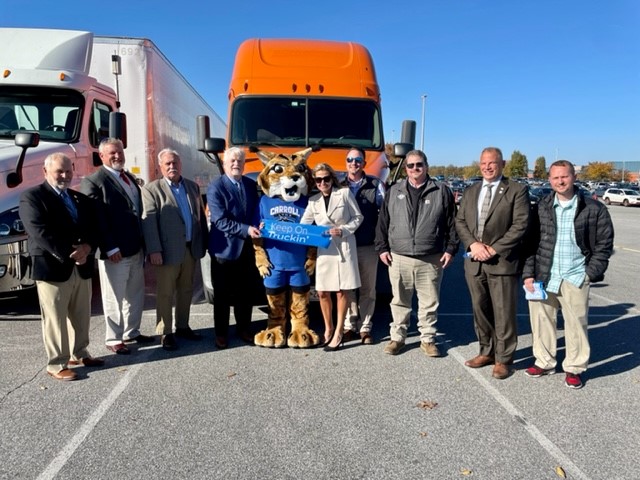 Truck Driver Certificate Training Program
November 1, 2022
We look forward to hiring our next candidate from the CCWD Youth Program
January 25, 2023
FOR IMMEDIATE RELEASE
Contact: Heather Powell, Manager
Carroll County Workforce Development
410-386-2820
Workforce Center Recognized as Champion of Manufacturing
Westminster, MD, Friday, November 18, 2022 – Carroll County Workforce Development (CCWD) was recognized as a 2022 Champion of Manufacturing at the Regional Manufacturing Institute of Maryland's Maryland Manufacturing Celebration on November 17th at Martin's West. Seven other Carroll County organizations and businesses were also recognized at the event for their manufacturing innovations, energy efficiencies, and workforce development programs.
Director of Economic Development Jack Lyburn said, "We are particularly proud to nominate and recognize the Carroll County Workforce Development team for training 30 welding students through a partnership with Earlbeck Gases and Technologies using its mobile classroom. This new initiative helped our local manufacturers meet some of their hiring needs and created new small business enterprises. The 30 trained welders earned 68 American Welding Society Certifications in nine weeks and Carroll County employers had an opportunity to meet and hire the trainees as part of the program – that's a win-win."
Carroll County Department of Economic Development was proud to sponsor the 2022 Carroll County Champions which include:
Carroll County Workforce Development – Workforce
Carroll Community College – Workforce
Earth Animal Riverstone – Energy Efficiency & Sustainability
Flowserve – Innovation
Fuchs NA – Women in Manufacturing
Lehigh Cement Company – Energy Efficiency & Sustainability
Maryland Print House – Workforce
RHR Products, LLC – Women in Manufacturing
More information about these achievements is available online.
About Carroll County Workforce Development
Carroll County Workforce Development (CCWD) is Economic Development's workforce agency that is part of America's Job Network. The CCWD mission is to develop a highly trained and effective workforce for new and existing businesses, to assist individuals in achieving employment and to encourage lifelong learning. CCWD's federal funding for Fiscal Year 22 is $2,217,441.93. This represents $90.4% of available funds. Services are offered Monday through Friday, 8 a.m. to 4:30 p.m. For more information, please call 410-386-2820 or visit the website at www.carrollworks.com.
# # #